Greenworkz
The Problem:
Environmental
Over 400 million cartridges are discarded into our nation's landfills each year
Cartridges make up over 1.9 billion pounds of solid waste in America's landfills
To date, 80% of all printer, copy and fax cartridges end up as landfill
It can take up to 450 years for a laser cartridge to decompose in a landfill
Economical
More than 375 million gallons of oil are consumed every year to make OEM cartridges. That's more than 3 quarts of oil per cartridge
One school can use 350 printer cartridges per year
A medium-sized business can use 900 to 1,600 cartridges per year
The GraceWorkz Solution:
GreenWorkz Environmental
Compatibles conserve nature's resources by reusing certain non-wearing plastic shells and metal components from OEM cartridges
The recovery and reuse of empty printer cartridges diverts millions of cubic feet of material from waste disposal
Every new compatible cartridge we sell keeps one half pound of waste out of our landfills

GreenWorkz Economical
Manufacturing compatible cartridges uses 80% less energy than manufacturing new plastics
No oil required to produce our new compatible toner cartridges
Our new compatible toner cartridges cost 40 to 60 percent less to the consumer than OEM brand name
We make all our products right here in the USA
Our GreenWorkz Process
As a remanufacturer of high quality imaging products our remanufacturing process we call GreenWorkz reflects the positive impact our products have on our environment.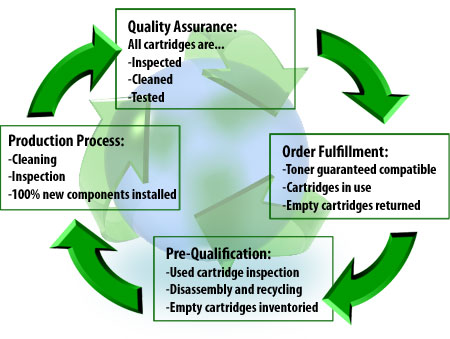 Our Environmental Mission
GraceWorkz is committed to exceeding the expectations of our customers and while, for over 15 years our GreenWorkz production process has excelled at preventing pollution, we undertake to continually assess all our activities and implement a program of ecological improvement based on the pursuit of the following three ecological principles:
Nature cannot withstand a progressive build-up of society's waste, particularly artificial persistent substances which it cannot degrade into harmless materials
Manufacturers must, in an efficient and equitable manner, reclaim as much reusable material as possible through recycling, producing environmentally friendly products and resources to the ecological and economical advantage of society and the earth
Society must utilize products, energy and resources in a sustainable, equitable and efficient manner
We consider that the pursuit of these principles constitutes a path of ecological excellence and will secure future prosperity for society by sustainable economic activity.